Which is the best training collar for stubborn dogs like yours? Let's see what each model has to offer so you can decide for the right one!
What are our top choices for training collars?
The dog training and accessory industry offers hundreds and thousands of collar options. We have selected three models:
All three models have a large number of positive reviews. Given the general opinion that all three products are of good quality, one of them could be the right choice.
Is dog training your passion? Or you have multiple dogs that you need to control at the same time? The solution can be the premium training collar – Garmin Sport PRO Bundle.
Pros
1-hand simple, intuitive, no-look operation;
10 different stimulation levels;
4 training buttons for continuous versus momentary stimulation;
Can be used to train up to 3 dogs. Additional dog devices are sold separately;
Gives positive clicks by using the quick turn dial;
Equipped with BarkLimiter to keep the dog quiet;
Water rating of IPX7 for handheld and 1 ATM for dog device;
The 10-level correction is analog, which makes it easy to operate without looking at it;
Using a variety of correction levels enables you to get the dog's attention without making it fearful;
Buttons are made of solid rubber which makes them easy to use and difficult to mistake;
Tough construction which makes it very durable.
Cons
Some customers who have used the product intensively say they would have liked the battery to last longer;
Some users have complained about malfunctions like not charging or working intermittently;
It is possible for the device not to work in case of an obstruction, such as a building.
Buy Now on Amazon
83% of reviews for the Garmin Sport PRO Bundle are 5-star reviews. This suggests that a large majority of users is satisfied with the product. If you are willing to purchase a premium product, this one definitely deserves your attention.
Looking to buy something in between? This is the most common situation for the majority of pet owners.
You don't need the most advanced features and the sturdiest build. And neither do you want to buy a cheap product that will break at the first use.
If this is your case, consider the PATPET Small Size Dog Training Collar with 3 safe training modes. Let's see what this product can provide!
Buy Now on Amazon
Pros
Provides 3 safe effective yet human training modes that do not harm the dog;
The remote comes with a security switch to prevent misoperation;
Can train two dogs at the same time;
Has a long battery life and a 2-hour quick charge. The collar will work up to 30 days after a charge;
Fits dogs with neck sizes from 7" to 27";
Uses waterproof technology for dogs that like to play with water. It will withstand 3.2 Ft for half an hour;
Uses three buttons to adjust collar intensity through blind operation;
Has No/Off protection to extend battery life and prevent accidental hurting;
The conductive points have rubber covers to protect the dog's skin;
The small receiver collar is suitable for puppies;
The range control is up to 3000 Ft;
Many customers have confirmed that the device stops barking;
Sleek design that fits into your pocket.
Cons
You are advised not to attach the dog's leash to this collar;
The collar and the prongs may be too big for small-sized dogs;
It is possible to have trouble reading the display when using outside in daylight.
The PATPET Small Size Dog Training Collar has 90% 5-star reviews. It is one of the best-reviewed pet products, made from quality materials and having a functional design. Chances of not being satisfied with this dog collar at a very competitive price are minimal. This could actually be the best training collar for stubborn dogs.
One of the main positive points of this product is that you can purchase extra links to obtain a large collar. The low price is also a reason why so many pet owners buy it. But there is more to this affordable yet effective dog training collar!
Buy Now on Amazon
Pros
It is recommended by professional trainers who have experience with thousands of dogs;
Advanced users reveal that it works based on carotid massage. It does not apply pressure on the carotid artery, but on the nerve. This activates the para-sympathetic nervous system, releasing chemicals that counteract adrenaline;
The collar has a discreet aspect and does not create that dangerous dog look;
Its friendly look makes you and your dog approachable;
It comes with a safety slip collar in cased the actual collar comes apart;
Easy to put and take apart;
Works well without causing sufferance and will transform your dog's behavior;
The price is affordable and suits the lowest budgets.
Cons
Quality issues are possible due to the lower cost of this training collar;
Some owners claimed that this collar's not so sharp points were ineffective at controlling the dog;
The snaps can be difficult to separate to size the collar;
May not be suited for larger dogs that are powerful enough to jerk despite the collar.
In spite of this dog leash belonging to the budget category, only 6% of Amazon buyers gave it a 1-star review. A majority of 65% of users gave it a 5-star review, suggesting that there are more pros than cons to this product.
However, do not expect it to be the best training collar for stubborn dog. Choose it for a dog that is not very large and strong. Avoid it if the dog needs different stimulation levels to draw its attention.
Reading the instructions and operating the Starmark Pro-Training Collar properly can prevent many of the issues reclaimed by unsatisfied customers.
What is the best training collar for stubborn dogs depending on your budget?



Dog training looks easy and a lot of fun when you watch videos of professionals. In real life, however, you may deal with command disobedience many times.
Some dog breeds are not so easy to train. Such situations can be very frustrating. This can make you ask "What is the best training collar for stubborn dogs?'
Training collars are usually recommended when you are dealing with unacceptable behavior. If the dog doesn't respond to verbal commands, the most humane method of obtaining its cooperation is the training collar.
Training collars are part of the negative reinforcement method of dog obedience training. The idea is to create a certain level of discomfort to the dog and withdraw it once the dog complies.
What types of training collars are there?
There are multiple types of training collars, each with its purpose. You will have to learn how to use dog training collar for each type.
Use them only for training and not for daily wear. By suddenly and softly tugging the chain leash, the dog feels a grasping sensation.  Never leave your dog unattended while wearing this type of leash
Unlike the previous type of leash, prong collars grasp evenly the dog's neck. It protects the most delicate areas around the dog's throat.
Simply pulling the leash will transmit to the dog that its behavior is not accepted. This is by far the most common type of collar and comes in many fashionable versions.
They work pretty much like nylon collars, but they give more freedom to the dog. It is recommended to dogs with long necks or medical conditions.
This collar prevents your dog from barking as it moves its head into an unnatural position. The dog will have to behave properly to get rid of the discomfort.
Vibrations or even electric shocks are used to control dogs that are too agitated.
These collars incorporate multiple functions, such as monitoring dog location. They can stimulate the dog once it leaves a certain designed area. Once the dog breaks through the invisible wall, the collar will vibrate or send a shock to warn the dog.
Why are training collars useful?
There are many things that can be unsafe for a dog, including various foods. Training collars is one topic that has caused lots of controversy among pet lovers. Some say they are necessary and effective, some say they are not a humane solution.
In terms of safety, knowing what size dog collar your pooch needs will help a lot. It is equally important to respect some safe usage recommendations.
Every dog owner hopes the dog will obey by using positive reinforcement, but this is not possible all the time. Training collars use the least harmful negative stimuli to obtain dog obedience.
Like all animals, dogs want to avoid sufferance. They will do what it takes to return to safety. Once they understand that the source of the discomfort is not listening to your commands, they will cooperate. Removal of the positive punishment is the incentive to behave better.
Is shock collar training cruel?
In the last years, there has been a growing concern regarding the humane treatment of pets. This can make you ask yourself 'Is shock collar training cruel?'
The Human Society of the United States, for instance, does not see aversive collars as a humane option. It also claims that these collars do not suppress unwanted behaviors and can create anxiety.
It is very important to teach the dog the proper behavior, whether you use training collars or not.
Using or not the best training collar for stubborn dogs is entirely your decision. It can be a better option than dealing with a dog out of control.
Dog training experts also make the following recommendations to avoid unwanted behavior:
Avoiding stimuli that trigger the dog, such as other animals and passing cars;
Getting g help from a professional dog trainer if your dog is over-reactive;
Studying dog behavior to be able to prevent and manage difficult situations;
–        Asking for the vet's advice as aggressive conduct can also be caused by an ailment.
How to use a dog training collar?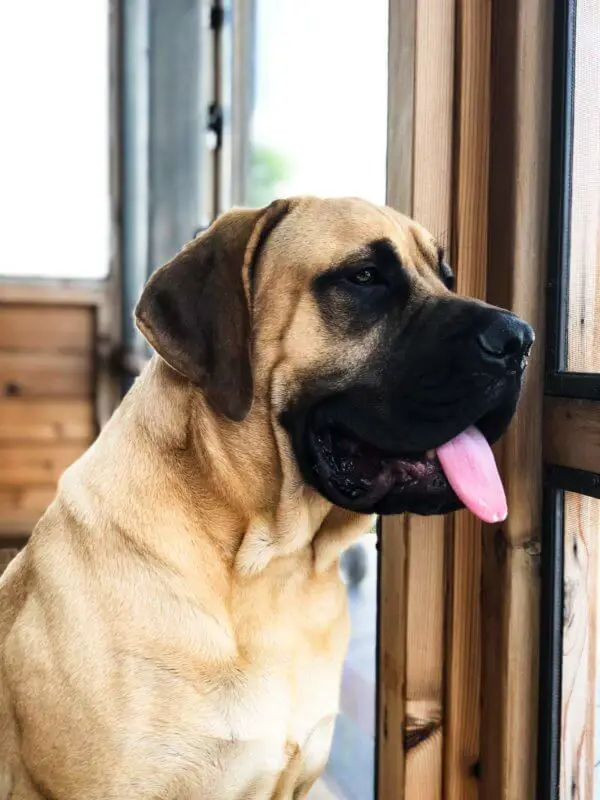 Careful use of the dog training collar is necessary if you don't want the dog to mistrust you. Overusing this training tool can increase stress levels and cause trauma.
It is preferable to use positive reinforcement (adding something your dog likes to encourage good behavior) and negative punishment. The latter means you remove something your dog likes to discourage bad behavior.
Aversive techniques should be used as a last resort. Hunting your dog's every little mistake to employ these collars is definitely the wrong way to train it!
Bottom Line
Still looking for the best training collar for stubborn dogs? The three products we have reviewed are a good start. Finding the right product depends on your budget and on what size dog collar you need. The amount of technology you want in it will also play an important role. Outline your needs first and then make a short list or products that meet your criteria!