Finding the best plastic dog crate that's suitable for your pet can be of great help whenever you need to travel somewhere with him/her. Crates are very convenient not only for traveling but also when you need your dog to stay calm inside the house.
You surely have guests who were afraid of dogs, and that's when a comfy and spacious crate comes in handy.
We all want what's best for our dogs. That's why it's important to keep them both safe and comfortable while traveling.
Our pets should have their own space to sleep and relax, and a good quality crate can provide that.
When it comes to our top-pick plastic dog crate, we choose Petmate Two Door Top Load for its practical design and price.
The other four crates from the list are also fantastic, so pick the one that's suitable for your pet.
Budget pick: MidWest Homes for Pets Spree Travel Pet Carrier 
Premium pick: Pet Gear "The Other Door" 4 Door Steel Crate with Plush Bed + Travel Bag for Cats/Dogs
Best value for money: Petmate Two Door Top Load 
Best Plastic Dog Crate in 2022
Here's which plastic crates we think are the sturdiest, comfiest, and most universal for all dog (and cat) breeds!
Pros:
Ergonomically designed 

Plenty of holes for ventilation

Two doors for easy access

Sturdy and safe
Cons:
The doors aren't removable

Available in only two sizes

Some holes are sharper on the inside
Every dog or cat should be able to feel relaxed and secure, especially while traveling. That's why this Petmate product will be your ideal choice if your pet is small and you travel often.
The best feature of this crate is the two-door system. It allows your pet to enter the crate independently from the side door.
On the other hand, it also provides easy access to the owner, thanks to the top door. 
This crate is made of sturdy, high-quality plastic, with secure steel doors. There are plenty of ventilation holes both on the crate and the doors.
Those holes provide your pet with fresh air as well as the view from the crate. 
Even though both doors are secure, they are easy to open thanks to the easy-squeeze latches. Both doors open and close from the outside, which means that there is no risk of your pet opening them while inside.
The handle is ergonomic, and the entire crate is suitable for air traveling in most airlines. 
The inside of the Petmates crate is cozy and will make your dog feel safe and protected. Petmate's team minimized the number of sharp edges so that the crate is safer for the pets.
This model is available in four colors and two sizes.  
Very durable and secure

Lightweight material 

Easy to clean

Simple to assemble
Cons:
Only one door

The colors are different in person

Not every size has a handle
If you own a medium-sized dog, this model from Petmate is a better solution. The first thing you'll notice is the sturdiness of the crate.
The high-quality plastic is very durable and will withstand heavier dogs. Still, the crate itself is light and comfortable to hold thanks to the ergonomic handle.
This model has only one, end door, but it's still easy to use, and your dog will surely love it.
The door is made of steel, and the entire crate has a bunch of holes to provide your pet with enough air. You'll easily assemble the crate in a few minutes.
The screws are made of metal for added security. Your doggo will have enough space and freedom to enjoy its crate while staying safe.
This model is also suitable for traveling, including air travel with the majority of airlines. You can choose between eight colors and eight sizes.
This is the best plastic dog crate to accommodate multiple pets with different requirements. The good thing about plastic crates is that they won't retain odors.
You'll also find the plastic material very easy to clean and maintain.
Air-travel safe

Easy to assemble

Sturdy yet lightweight
Cons:
Top door can be harder to open

Comes in only two sizes

Available in only one color
This is another plastic crate model that features two doors – one on the top and the other on the side.
However, AmazonBasics crate provides an added convenience – the top door can be opened both to the left and right. This feature provides easy access to your pet, and it's especially useful when you have limited space in the car. 
Other than being made of very durable plastic, the front door of this AmazonBasics crate is made of high-quality steel. You can easily open it by pressing the spring-loaded latch.
Still, the door is secure so that your pet can't open it. The crate is available in two sizes, and they are both suitable only for smaller breeds.
You'll assemble the kennel in a couple of minutes. The top and bottom of the crate snap together with four very durable and secure latches.
For added peace of mind, you can reinforce the connection with the screws that are included. You'll appreciate the comfortable handle, and your dog will love the spacious yet cozy crate.
The ventilation holes are on each side of the kennel to enable enough air and visibility.  
Features four doors

Has an insulated, soft base

Easy to store away

Easy to move around
Cons:
The price is high

Not travel-friendly when assembled

The bag is poorly made
This premium dog crate has everything dogs need for comfort. It is available in three sizes and three colors.
This model features four doors—one on top, two side doors, and one large garage door. The construction and top door are made of plastic while the rest of the crate is made of durable steel.
The bottom of the kennel is insulated with soft, cozy fabric that provides your pet with comfort and warmth. So if you're wondering what's the best plastic dog crate with a plush base, this model is the answer.
The largest door opens by sliding up so that it doesn't take any space. The side doors can open both to the left and to the right, for an added convenience.
All of the doors are secured, and your dog won't be able to open them. The best feature of this dog crate are the wheels that make transporting much easier, even if your dog is heavy. 
You can fold the kennel and pack it in the bag that comes with it, which makes the storage easy. Your dog will love this crate because it will feel protected and cozy while still having enough space. Since all the doors are made of steel and not plastic, your pet will be able to see everything around him/her.
Affordable

Quick to assemble 

Air holes on each side
Cons:
Only for small breeds

Only one door

A bit slippery
For all the dog owners who are on a budget, this MidWest Homes for Pets dog crate is the best choice. This one is probably the easiest crate to assemble since it doesn't require tools.
You'll be able to assemble it in a couple of minutes. This dog crate is available in three colors—red, blue, and green. 
The material is durable and sturdy enough to withstand travel. Still, the crate is lightweight, so that you won't have problems carrying it around.
The convenient handle is ergonomically designed and strong enough that it won't break under your pet's weight.
There are ventilation holes on each side of the crate, which makes it suitable for air travel.
You won't have to worry about your pet's safety because this crate doesn't have sharp edges. Your dog or cat will feel comfortable while being inside the kennel.
Are you looking for a crate that's easy to assemble, super-fast to clean, portable, and overall practical?
This model should be your choice. Provide your dog with comfort and security, even when traveling.
Frequently Asked Questions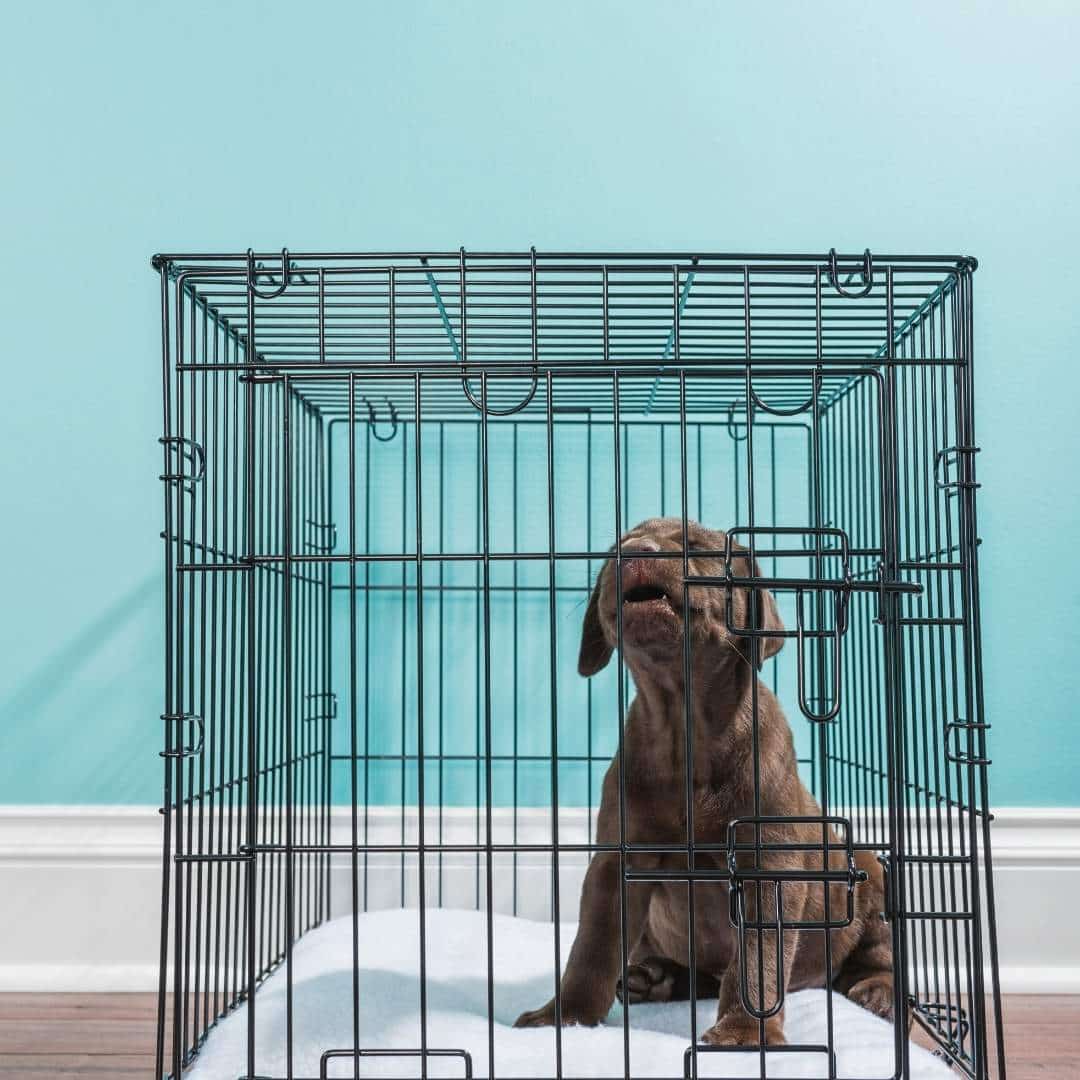 These are the most Googled questions about dog crates. We hope the answers can help you with your concerns!
Which is better wire crate or plastic?
Many people wonder which material to choose for their dog's crate – wire, plastic, or something else. It depends on the purpose the crate will have as well as your dog's size, weight, and preferences.
Wire crates are usually more durable, sturdy, offer more space and visibility to our pets. Still, well-made plastic crates are a better choice for traveling. 
The best plastic dog crate that's travel-free will have air holes on at least three sides, a good, sturdy handle, and accessible doors. If you travel often, a plastic crate is a more convenient option.
Can a dog crate be too big?
Yes, it can. Crates that are too small are bad comfort-wise. Kennels that are too large also aren't the best choice. Your dog may start feeling too comfortable and start relieving itself inside the crate.
The dog won't mind doing it because the crate is big enough for him/her to have enough room for everything.
Purchase a crate that's large enough for your pet to comfortably stand, lie down, and stretch, but don't go overboard with the size. Also, kennels that are too large aren't very practical.
They take up a lot of space and are often impossible to use for car rides.
Should I cover my dog's crate?
Your dog may feel anxious when being in a crate for the first time. Even though air holes are important, you can still cover the crate with a thin blanket, especially at night.
This will give your dog a sense of security, and he/she will be more relaxed. 
You can also throw on a thin cover when you're traveling with your dog in the crate, and the sun is too strong. The cover will create a nice shade, and your dog will enjoy the trip more. 
Should you put a bed in a dog crate?
If you notice your dog not wanting to lie while in the crate, he/she may be uncomfortable or anxious. Also, if the crate is plastic, it may even be too slippery for your pet.
Another possibility is that your dog is cold. That's why you can put a comfy dog bed inside so that he/she feels cozy, protected, and warm. Instead of the bed, you can purchase a crate with the insulated, plush, or fuzzy bottom.
If you decide to put a bed inside the crate, make sure to secure it with some tape when traveling. You don't want the bed sliding around the kennel and disturbing your dog's peace.
Be prepared to clean the bed/plush cover frequently as it will surely absorb odors.
Even though plastic crates may seem uncomfortable and slippery, they are the easiest to clean and keep odor-free. That's why the majority of dog owners find them practical and time-efficient.  
Best Plastic Dog Crate – Bottom Line
Finding a dog crate that is suitable for your pet could potentially be a challenge, especially size-wise. Owners want their dogs to have enough space to be comfortable, yet crates that are too large usually aren't travel-friendly.
Make sure to measure your dog and choose the crate that has the right dimensions. Don't forget—the crate you purchase should have enough holes for air circulation and a more enjoyable experience.
Hopefully, this list of our top five picks has helped you decide which features you need in a dog kennel! Whether you choose to go with a budget pick or invest in a premium model, your doggo will be cozy and happy.
Travel stress-free with your pet and make visits to the vet hassle-free by having a comfy crate for your four-legged friend.