If you own a German Shepherd, you know how short the life span of most dog toys is. These strong, active dogs will chew through almost anything! So how to find the best dog toys for German Shepherds?
The German Shepherd is a highly energetic breed. They are highly intelligent, large breed, and need toys that won't be torn apart after just a few minutes.
Buying toys for a breed such as a German Shepherd is a real investment. Playtime is essential for their well-being. Most toys simply aren't made for a dog like that, no matter the label on it.
This is why we have conducted a list of the top 5 best dog toys for German Shepherds.
Top 5 Best Dog Toys for German Shepherds
It isn't easy to pick the right product for their needs and abilities. Below are products that are great for your dog's needs.
Your canine friend will need a toy that will help him stay fit and agile. Every product from this list is perfect for exactly that.
1. West Paw Zogoflex Toppl Tough Dog Chew Toy
Pros:
Interactive
Can be used in a pool
Easy to clean
Cons:
Both parts of this toy have to be bought separately; this makes it rather expensive
This interactive toy is a challenge for every dog out there. The West Paw Zogoflex toy is made to keep your German Shepherd busy for hours. It's made of two parts.
The first is a smaller rubber bowl that can fit inside the second, bigger bowl. It's simple but effective.
You hide a treat in there and leave your dog to figure out how to open it. It's made of tough materials, so your German Shepherd can't easily chew through it.
If you don't want to stuff it with treats, that isn't a problem.
This toy is great for playing fetch as well! Also, it's good for your puppy's teeth, as they can safely chew and gnaw it.
And if you are worried about cleaning it up later – you shouldn't be. This product can safely be washed in a dishwasher.
Another feature of this toy that we have to mention is that it's eco friendly.
It's made of recycled materials, mostly rubber.
2. Kong Classic Large Dog Toy
Great for bigger dogs
Can be used both outdoors and indoors
Suitable for German Shepherds of all age
Cons:
Strongest of dogs can destroy it
If you are a long-time owner of large dog breeds, then you are probably familiar with Kong brand. This chewing toy is a great outlet for your dog's instinctive needs. It's made of rubber and can be used both outdoors and indoors.
This toy can withstand even the hardest of chewing. At the same time, it's unusual, bulbous shape mixed with a hollow center makes it a challenge.
It will probably keep your dog distracted for a long time. If you have a puppy, this toy is still a great choice. It will strengthen the puppy's gums and teeth and it isn't so hard to be able to hurt them.
And don't worry – you won't be excluded from the play! This toy is great for a game of fetch.
The hollow insides can be filled with some dog treats, just to make things more interesting. In short, this is a well-rounded toy that can be used in many ways.
Pros:
Great for training
Large enough for German Shepherds to run through it
Made from waterproof and durable material
Cons:
Fairly expensive for a toy
The stakes aren't the strongest and you should consider buying new, tougher ones
If you are planning on building an obstacle course in your backyard, this 18ft long toy is a nice addition.
The HDP Training Tunnel can challenge even strong dogs such as German Shepherds.
This tunnel is made of high-quality materials that can sustain even the most active dogs.
These materials, mostly nylon, also make it waterproof, tear-resistant, and static-free.
The stability is further enhanced with eight stakes that can pin it to the ground.
The opening is 24ins, which meets the AKC specifications of products made for dog training.
It also comes with a carrying case that helps with mobility.
Keep in mind that this toy is meant to be used outdoors and outdoors only.
It's big, so if you don't have a spacious backyard, this product might not be the one for you.
Can sustain long tugs of war
Can be used both indoors and outdoors
Cons:
Not made for chewing
A bit expensive for a tug of war toy
This tug toy has a classic, easily recognized design that is perfect for German Shepherds.
It looks like a classic bite pillow, with several ropes to help owners with the grip. This makes it perfect for both training and tugging.
It's made to be durable. The main materials are woven jute, for the 'pillow' part, and nylon for the handles.
This is why it's important to keep in mind that this is not a chew toy. Any bigger canine, such as German Shepherd, can destroy it if left unattended.
If you want your dog to chew on things, this isn't the best dog toy for German Shepherd. Instead, it's made to be used by you and your canine friend in a play together.
The handles enable you to hold it in any position you'd like.
This toy is a great way to keep your dog active, both mentally and physically. If taken care of, it can last for a long time.
Pros:
Affordable price
You can choose from many cute designs
Durable
Cons:
This product isn't made to be chewed on
We decided to include this toy as well, even though it's not a stereotypical German Shepherd product.
No matter how tough German Shepherds are, they are still rather loyal and connected to their owners. If you work a lot, you should provide them with a comfort toy.
This adorable product is a great choice.
Choosing the right plush dog toy is harder than you think. However, this manufacturer thought of everything.
The packaging comes with 10 squeakers, so if any malfunction, others will still work. This means hours upon hours of playtime. Another important thing, this toy doesn't have any stuffing.
This will keep your dog from swallowing anything.
A cute feature of this product is that you can choose them in several shapes and forms. For example, you have one colored like a German Shepherd!
Different Toy Types
When choosing the best dog toys for German Shepherd, there are several things to consider. Not every toy is good enough for your companion and choosing the right one is a challenge.
Keep in mind the safety of your dog! This goes without saying. Toys have to be safe for your dog!
German Shepherds will chew and try to tear up almost any toy. This means that the product can't have sharp edges, can't be toxic and can't be swallowed.
At the same time, toys should be durable and should improve your dog's development. If you find a toy that he can chew, claw on, tear and shred, even better!
German Shepherds have wild instincts and they need to find a replacement for their natural prey. This will also keep them away from your furniture.
And don't forget – you don't want to spend countless amounts of money on something that'll end up in the garbage.
Now, taking all the dog's needs into the account, here are several kinds of toys for canines.
Tug Toys
These kinds of toys are made to be long-lasting and strong. They are a great choice for puppies, as they will strengthen teeth.
A tug toy can sustain the most hardcore chewing and tugging, even when two or more dogs are using it.
Chew Toys
Just like tug toys, these toys are usually made to be virtually indestructible. They are made from thick rubber and plastic.
They will help your dog have an outlet for his destructive needs while improving dental health.
Interactive Toys
These puzzle-like toys will challenge a dog both mentally and physically. They often come with a treat that can be gained once your dog solves it.
Training Toys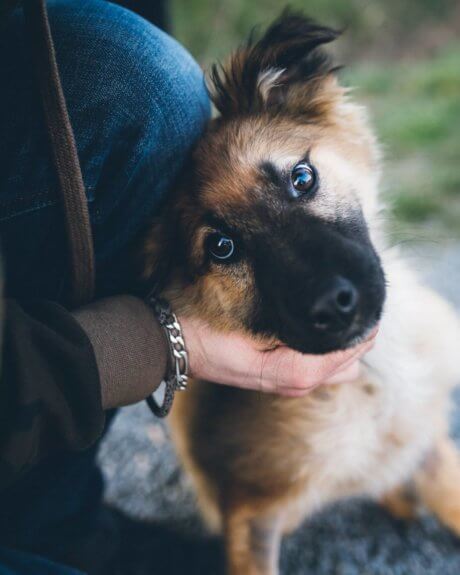 When your dog has to be trained in a certain command, this toy is a great choice.
They will keep your German Shepherd mentally and physically occupied for a while. Training Toys are also great to use with an obstacle course.
Soft Toys
Soft toys are usually made for comfort. They won't help your dog with their exercise but might give them solace when you're away from home.
Keep in mind that your dog still might tear this toy apart! Go for the one without stuffing, so nothing is swallowed.
Why Is Activity Important for Your German Shepherd?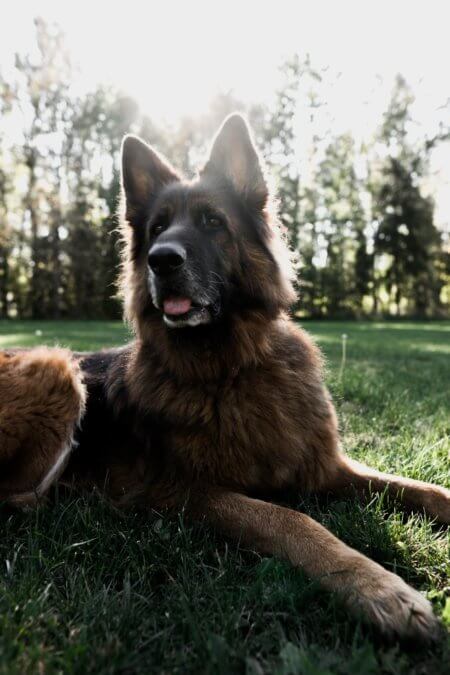 German Shepherds are dogs with extreme energy levels. They need to get the mental and physical stimulation every day, or else they'll become destructive.
As a result, you might find your yard ruined by dug-out holes or your pillows torn to pieces. When a dog as big as a German Shepherd gets destructive, the damage done can be extreme.
It's your responsibility, as a dog owner, to provide your dog with plenty of daily activity.
German Shepherds tend to need more exercise than your average dog. According to many sources, they require at least an hour of activity every day.
It's also a good idea to push your dog's limits, as this can provide further stimulation. Here are several suggestions for providing your dog with the amount of activity it needs:
Take long jogs or walks; this way you will exercise together!
If you have a big enough backyard, set up a training obstacle course for your dog to complete.
Provide him with the best dog toys for German Shepherds.
Take your dog to the park as often as you can so he can socialize.
Don't keep her chained up – have a big fence around your yard so he can run freely.
Can There Be Too Much Activity?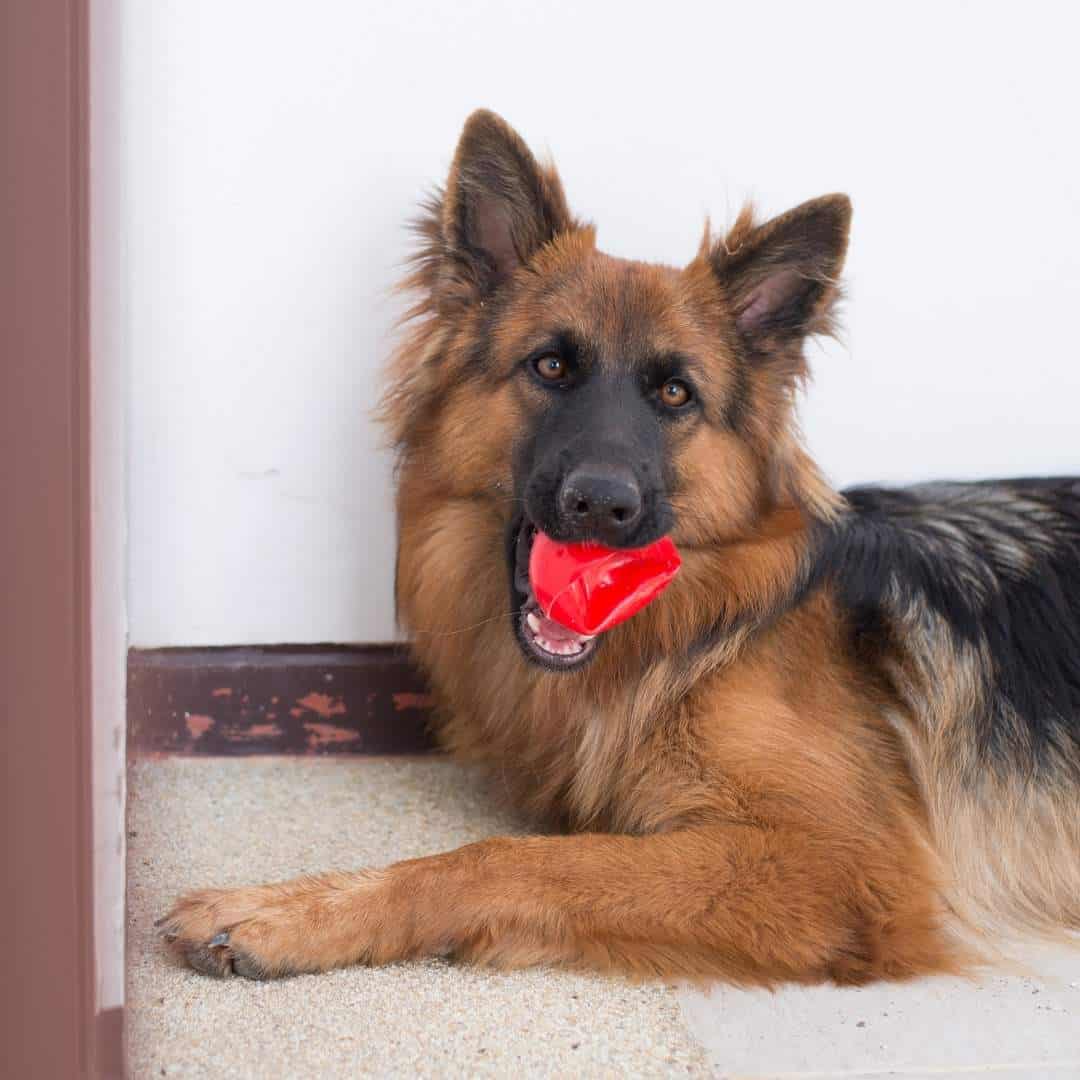 Although German Shepherds hate to stay calm, there are certain instances in which he can have too much activity.
Like many big dog breeds, German Shepherds are prone to conditions such as hip dysplasia.
Hip dysplasia is among the most common reasons big dogs are put to sleep due to the inability to stand.
If your dog has the genetics for this disease, you might want to tone down their exercise especially when they reach a certain age.
Hip dysplasia and other bone and muscle deformities are extremely painful. Working out only makes this condition worse.
This still means that you have to take care of your dog's energy levels! You just have to do so carefully and slowly, as to not worsen the condition.
Final Verdict
It's hard to select just one from this list of best dog toys for German Shepherds. Every dog has his own needs and tastes and it's hard to find something universal.
However, taking into consideration every important aspect, we have made our winner. That is definitely the Kong Classic Large Dog Toy.
Kong is a respectable dog brand that people trust ever since they came to the market. Also, every German Shepherd needs a nice chewing toy.
Of course, feel free to find the brand that works the best for you and your dog. Despite German Shepherds having breed-specific characteristics, every dog is an individual.
Just be sure that you have chosen the toy that will interest them in the long run.