Why is it so important to know how to choose the best dog food for bulldogs? Because taking proper care of our canine pets means making sure they have suitable nutrition that will keep them healthy and energetic.
Providing a comfy place to sleep, giving them attention, keeping them clean and disease-free is super-important, as you already know. Diet is another essential aspect that will make a big difference in your dog's quality of life.
When it comes to bulldogs, it's important to know that you'll have to be picky if you want your dog to be happy. Why?
Because they have a sensitive stomach and short muzzles, which means that they can have some difficulties when eating and slow digestion. Also, bulldog food allergies are a very common thing.
This means that the main characteristic of the food you choose should be that it's hypoallergenic. Other than opting for hypoallergenic dog food, your pet's meals should have enough fat and protein to keep your bulldog strong and healthy.
If we consider the quality of dog food as well as the price, our top pick needs to be
Royal Canin dog food
. It provides everything your bulldog needs while being affordable enough not to break the bank.
Of course, every dog is different, and that's why you should do thorough research before the purchase. Now, let's discuss all of our picks so that you can decide which dog food is the best choice for your bulldog.
Best Dog Food for Bulldogs : Review for Each Product
Here are our top 5 picks for your canine pet's food:
This dog food promotes the health of your dog's bones and joints.
The shape of the kibble is ideal for your bulldog's muzzle.
You'll have the recommended amount of dog food compared to the size of your pet written on the packaging.
Cons:
It may be a bit pricey if you buy it often.
Royal Canin food is not only reasonably priced, but it is also made of high-quality ingredients that your dog will love. That's why this bulldog food is our top pick. Thanks to the carefully chosen ingredients, your pet will receive all of the beneficial nutrients that will keep it healthy.
As a bulldog owner, you are probably aware of the sensitivity of their skin, especially in the folds. That's exactly why you'll love Royal Canin's bulldog food. Your doggo's coat will be shiny and healthy thanks to the nutrients that reinforce the skin barrier.
It's no secret that bulldogs can be a bit smelly. However, the ideal balance of the protein, fibers, and carbohydrates in this food can help a lot. The food will help your dog with the gas and less smelly discharge. Healthy digestion is very important for the animal's health, and Royal Canin is there to enable it.
An innovative thing that helps all dogs is the unique shape of each kibble. In this case, the kibbles have a wave shape that's ideal for short muzzles. This will allow your pet to enjoy its food easily and without any difficulties when it comes to digestion.
The food contains an ideal protein-to-fat ratio.
This product is soy-free and wheat-free.
Dogs with sensitive skin can benefit a lot thanks to the fish oil and sunflower oil.
Cons:
The odor of the food isn't the best.
Purina Pro Plan's team of experts invests a lot of time in making sure that each breed has suitable meals. That's why this food for sensitive skin and stomach is ideal for bulldogs. The first ingredient of the product is salmon that's known for the high level of omega-3 fatty acids. Thanks to that, and a high percentage of sunflower oil (omega-6), your dog's coat and bones will stay healthy and strong.
This dog food is also a fantastic choice if your dog has trouble with digestion. Oatmeal promotes the health of the digestive tract and is very gentle for your pet's tummy. Also, if your pet is allergic to soy or wheat, this product is the best dog food for bulldogs because it's free of both allergens. Your dog will be both happy with the taste and stay strong and healthy thanks to all the necessary nutrients.
All of the ingredients are natural and carefully chosen to ensure your pet receives only high-quality nutrition. That's why every formula contains real meat and fish, no matter which type of Purina Pro Plan product you choose. If you have more than one dog that's a different breed, you'll surely find the best option for your pet.
It's convenient because it's suitable for all dog breeds and life stages.
The probiotics help with the health of the digestive tract.
The coat of your dog will be strong and healthy because of the fatty acids.
Cons:
Your dog may need some time to adjust to the new food.
If you're looking for dog food suitable not only for bulldogs but also for other breeds, this one is a great choice. Other than being fantastic for all breeds, this delicious food is safe for all life stages – from puppies to adult dogs. This Canidae's Life Stages product has lamb and rice flavor, so if your pet(s) like(s) the taste, he/she will adore it.
Your dog will love the taste, but it will also be provided with many health benefits. Every kibble includes probiotics that significantly help with the dog's digestive tract. Since bulldogs are known for their sensitive stomachs, probiotics are practically a necessity. Antioxidants in the food will improve your dog's immune system. Fatty acids such as omega-3 and omega-6 will take care of the bulldog's coat and keep it smooth, silky, and irritation-free.
Dogs with allergies have difficulties with the majority of foods. That's why Canidae's Life Stages dog food is corn, wheat, and soy-free, to avoid allergic reactions. Multi-dog families will love the convenience of this product. The ingredients are simple yet offer the right amount of nutrients and provide your dog with the health and energy it needs. Other than lamb and rice flavor, you can also choose among other ones, depending on your dog's preferences.
Pros:
The formula is gluten-free.
The food contains omega-3 and omega-6 fatty acids for a better and healthier coat.
None of the preservatives or artificial colors and flavors are added to the formula – everything is natural.
Cons:
The smell of the food is strong.
Do you own an adult dog that can't consume gluten? This Taste of the Wild product is the best dog food for bulldogs if you're looking for a gluten-free option!
Your pet will be able to enjoy the amazing taste of toasted bison and venison without having difficulties with digestion. Even more so, the bulldog will benefit a lot from the probiotics that are added to the food. They will make sure that your dog's digestive tract stays healthy.
Taste of the Wild product is also the best choice if your dog is active and needs a lot of energy during the day. Thanks to the high level of proteins, your pet's muscles will stay strong.
The food also contains many digestible nutrients and a lot of beneficial vitamins. All of that will help your dog with digestion, health, energy levels, etc.
Another convenient thing about this dog food is that it's suitable for all breeds. Any adult dog can benefit from this high-quality nutritional formula.
The bison and venison meat will provide your dog with over 30% of protein. Other ingredients, such as fruits, veggies, and legumes, are antioxidants that benefit your dog's overall health and immune system.
The food contains real chicken and turkey meat.
Wellness CORE dog food is available in a variety of options with different ingredients.
Every kibble is an ideal balance of protein and other necessary nutrients.
Cons:
Some dogs may experience more gas at the beginning.
Some dogs actually prefer the taste of turkey and chicken over other types of meat. If your bulldog is one of them, this little investment is the best choice. Even though the food is pricey, it is still considered the best dog food for bulldogs that prefer turkey and chicken meat. A nice thing about Wellness CORE is that they offer a wide variety of dog foods. So, whether your dog eats grain or not, you'll have an option for him/her. The same goes for other potentially problematic ingredients.
This product is another one that will provide your dog with a lot of high-quality protein. Not only that, but the rest of the nutrients will support your pet's immune system and help with any skin sensitivity. Thanks to the omega fatty acids and ingredients such as salmon oil, your dog's coat will be protected and shiny.
As the rest of the chosen dog foods, this one also contains probiotics and antioxidants that will keep your doggo healthy. Bulldog food allergies are very common. That's why this brand has many options to choose from ingredient-wise. This is very convenient if you have more than one breed as pets.
Frequently Asked Questions
What should I not feed my bulldog?
Every dog owner wonders which food to avoid giving to their pets. After reading this article, you know what's the best food for bulldogs. Now let's see what food is toxic and/or bad for your bulldog's health in the long run.
Bacon – This tasty food can be very dangerous for bulldogs. It contains a lot of fat that can be harmful to your dog's heart. Avoid feeding your pet bacon and any other food with a lot of fat to keep it healthy.
Macadamia nuts – They can cause many digestive and health problems that lead to vomiting, depression, tremors, etc.
Avocado – The first trouble that avocado can cause is persin poisoning. This can lead to problems with the stomach and breathing. Another dangerous aspect is that your pet can choke on the pit of the avocado.
Apple – The core of an apple contains cyanide that can be deadly for dogs.
Raw dough – Gas bubbles that can potentially be formed inside your pet's stomach after eating raw dough can be very painful. It can also be dangerous as the digestive tract can even expand too much and burst.
Can Bulldogs eat rice and pasta?
Rice is completely safe for any breed, as well as pasta. Of course, you should cook it first and make sure it's unsalted. Your dog's stomach will be thankful since rice can have a calming effect when served with some chicken. However, make sure you're not exaggerating with the amount you prepare. If you feed your dog too much rice, he/she will feel bloated and heavy. The same goes for cooking pasta.
What is the healthiest meat for dogs?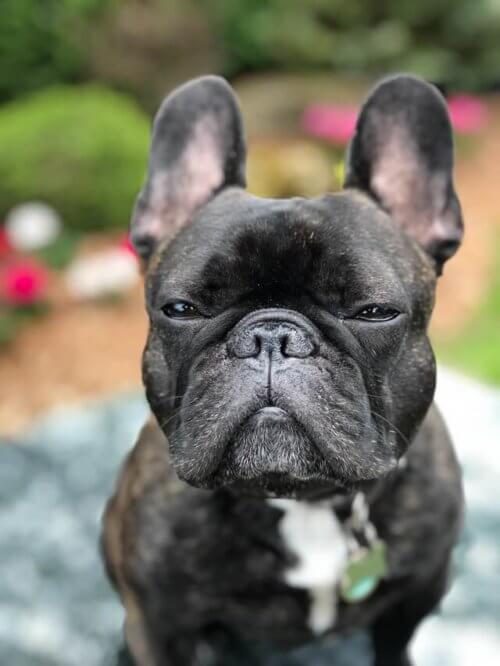 Turkey, chicken, and lean ground beef are the best meat options for your dog. Make sure to cook the meat well and not to add salt. Another important thing is to choose the cuts with less fat. The meat needs to be fresh because spoiled food can create a lot of problems for your pet.
Best Dog Food for Bulldogs – Bottom Line 
You surely know that every dog is different. Each of our canine pets has its own taste and needs. That's why choosing which dog food to buy is an individual decision. Before purchasing one of these five products, think about your dog's habits, preferences, and eventual problems.
An important thing to have in mind is that any new food should be introduced to your dog gradually. In that way, you'll be able to provide your dog with the best possible nutrition and keep it healthy, strong, and happy.