Golden Retrievers are one of the most popular dog breeds. And why shouldn't they be? They're amazing! Goldens are smart, sweet, and playful. They are extremely loyal and love their human family. Their bubbly personality even makes them great for families with kids. The least they deserve is to find the best dog beds for Golden Retrievers.
However, picking the best dog beds for Golden Retrievers can be a difficult task. This is made even more difficult due to their long, thick fur.
It's important to find the right bed before they get used to your furniture. Another reason why Golden Retrievers need a good bed is that with age their joints become damaged. A nice place to rest can provide your Golden with a longer life.
In the further text, you can find our choices for the top 5 best dog beds for Golden Retrievers. You can also find some useful information that can help you make the right decision.
Top 5 Best Dog Beds for Golden Retrievers
In A Hurry? Here's Our Top Picks
1. PawBrands PupRug Faux Fur Curve Orthopedic Pillow Bed
Orthopedic
Easy to clean
Provides super comfort
Cons:
Rather expensive for a pillow bed
This bed is perfect if you have a dog who loves to stretch around.  It's big, it's fluffy and it's made of a Memory foam base.
This makes it perfect for older dogs, despite it being a pillow bed. It will contour your canine friend's muscles and joints and provide a perfect comfort without putting pressure on his bones.
At the same time, the cover is soft and made of faux fur. This will help your dog feel warm and cozy. Also, the cover can be removed thanks to zippers.
It's fully washable in the washing machine, just use the gentle cycle.
This PupRug bed is made in two styles and two colors, so it will fit most interiors nicely. Also, it comes in three sizes. If you are considering buying your dog a pillow bed, this product is our biggest suggestion.
2. PetFusion Ultimate Dog Bed
Washable in a washing machine
Orthopedic
Can buy a blanket to go with it
Cons:
The product is rather firm, so some dogs might not like it
The zipper can easily break
This is a premium orthopedic bed, made with the delicate joints of your four-legged friend in mind. It's made with a 6-inch thick layer of Memory foam, which will provide your Golden with the best possible comfort and support.
Due to its thickness, it can sustain dogs that weigh up to 200lbs! This is more than most Golden Retrievers weight. The cover is removable and water-resistant. It also has a non-skid bottom, which is great for younger Goldens that love to play with their beds. And it comes in three sizes. The outer layer can be removed with zipper for easier cleaning. This is great as Goldens tend to shed a lot, so their beds require additional maintenance. Another good thing – it comes with a three-year warranty.
3. Big Barker Orthopedic Dog Bed
Great for dogs with orthopedic problems
Several sizes
Great quality
10-year guarantee
Cons:
Really expensive
Some dogs might not like it at first, as it isn't soft and fluffy
We can't discuss best dog beds for Golden Retrievers without mentioning Big Barker's products. Their 7-inches orthopedic beds have been chosen as the dog owner's favorite for years now.
This product is rather expensive, but it's worth every cent. It's made of Memory foam, which will give your dog joint support. At the same time, it is extremely comfortable and dogs love it. It's designed especially for bigger dogs, so it has all their needs in mind. The fabric is easy to clean and dog hair won't get stuck in it. This is always a plus when you have a canine with a thick coat such as Goldens.
This product won't flatten even after years of usage. It's made with so much confidence that it comes with a 10-year warranty! And it comes with waterproof liners, so if you have an older dog that has a problematic bladder, look no further.
4. K&H Cuddle Cube Pillow Dog Bed
Affordable
Super comfortable
Great for dogs who love to burrow
Cons:
It isn't orthopedic, so if your dog has painful joints, you should avoid this product
You might have problems with removing dog hairs from it
As its name suggests, the K&H's Cuddle Cube bed is ultra fluffy and comfortable pillow bed.  It will allow your Golden Retriever to burrow in the material and to sleep in whatever position he wants. The fabric is made with soft fibers that will further help your dog to feel comfortable. The design is kept simple, so you can clean it with ease. You can even wash it in the washing machine, just be sure to use the gentle cycle.
The base has a layer that will prevent the bed from sliding. It's made from eco-friendly materials, so if you are someone who is looking for green products, this one's for you. The fabric is made of recycled plastic bottles, so you will be helping the environment by making this purchase. The product comes in two colors, so it can fit your interior nicely.
5. Coolaroo Elevated Pet Bed
Great for outdoor use
Good for older dogs
Provides cooling
Cons:
Doesn't look too appealing
Isn't as comfortable as some thicker beds
If you have a nice garden that your Golden just loves to spend time in, this bed is a nice addition. It's made for outdoor use, so it's elevated and waterproof. It's made of breathable premium materials, so if you live in warm areas this bed will provide cooling. Despite the material being thin, it's rather flexible so it will reduce stress on your Golden's joints. Also, the frame is made of steel, so it's durable. The whole product is mold and mildew free, as well.
As this bed is intended for outdoor use, you can spray it with the hose and it'll be clean. It's elevated from the ground to provide for extra safety. Also, this bed is easy to assemble. This is one of the best dog beds for Golden Retrievers to be used outside, for sure.
What to Look for in a Good Dog Bed for Golden Retrievers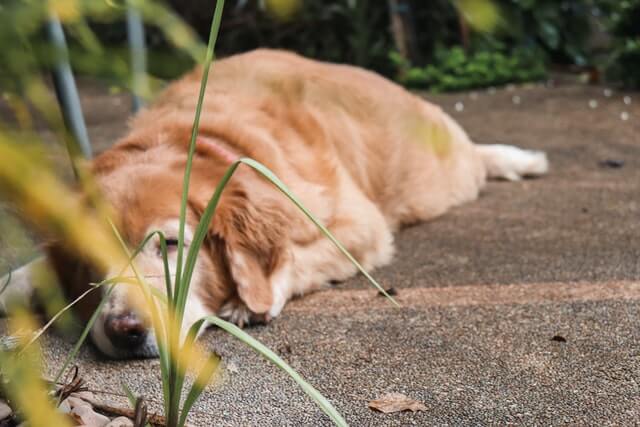 Golden Retrievers are large dogs, so they'll need a lot of space to be cozy. At the same time, they have thick fur which keeps them hot. This means they probably won't need a super warm bed. Also, they are playful dogs, so their bed will have to be durable and easy to clean.
Best dog beds for Golden Retrievers are made of removable and washable materials. As Goldens have a lot of fur, they shed a lot and attract a lot of dust and debris.
Their beds will have to be cleaned regularly. This is why you should find a bed that can get cleaned without a lot of fuss.
Good material choice is microfiber. Also, the materials used for the interior should be supportive.
Golden Retrievers can have a lot of joint problems. (Wikipedia source)
Their bed has to evenly cradle every part of their body. Our first choice for this would be Memory foam, but other similar materials such as polyfill can work, too.
Golden Retrievers are playful dogs, so the bed should be tough enough to handle their energy. You'll probably find that they can drag the bed all around the house. Zippers and seaming should be sturdy and they shouldn't break easily. If you have to replace the bed every few months, it can get quite expensive.
Most dog beds are rather hot, but Golden Retrievers don't need that. The only exception is if you often find your dog sitting next to the fireplace or other heat source. This means that they find additional warmth comfortable and soothing. In all other cases, we'd choose something with air circulation, so they don't become overheated or uncomfortably hot.
Also, we'd always suggest buying an orthopedic bed, especially if you have an older dog. Even if you have a puppy, it's a good idea to make them used to orthopedic beds. They'll quickly grow into them. If you get your puppy a good bed while they are young, they will learn discipline. This is a good start to their training routine.
Types of Dog Beds for Golden Retrievers
Depending on your dog's needs, there are different kinds of dog beds. When you find out what is it that your dog needs, you can focus on just one type of product. This makes the choice much easier. Below are the most common types of dog beds, as well as their virtues and flaws.
Flat Beds
If your canine friend loves a lot of space, this might be the right type for him. Flat beds will allow your Golden to sprawl out, without being too fluffy or soft. The best flat beds are made of a dense fiber or memory foam fill. This will give your dog just the right elevation, without the uneven cushion. Flat beds are an especially good choice if you want to keep your dog bed in a kennel. They're mostly affordable, they're simple, and they can be made of a big variety of materials.
Pillow Beds
Pillow Beds are similar to flat beds, except they are made of a thick fiberfill that mimics human pillows. They are awesome for a playful dog and a dog who loves additional comfort. The only problem is that this bed type can lack firmness. Also, pillow beds should be made of thicker material, so they can keep your dog's joints off the floor. If you have an older dog, however, it might be better to stick to flat beds or other bed types.
Orthopedic Beds
In our opinion, this might be the best kind of bed for Goldens, especially if you have an older dog. Orthopedic beds are made of Memory foam, which will comfort your dog's body. This will keep their spine straight and it will relieve their joints of pressure during sleep. The only flaw of this bed type is that it can get expensive. However, if your dog is suffering from arthritis or other painful conditions, it's worth every penny. Nothing is more valuable than seeing your dog be pain-free and comfortable.
Cots
If your dog loves to sleep outside, a cot is the best choice for providing comfort. It will lift your dog's body off the ground, while also providing air circulation. At the same time, it will help your dog from getting his fur dirty. They are especially good for summer – although some cots can also be placed outside.
Cave Beds
Cave beds are a great choice for a dog who prefers to sleep hidden. Most come with removable tops, which can be hard or flexible. Some even allow your dog to burry himself completely. Our advice would be to find some with a simple piece of fabric that your dog can burrow under. This way they won't become too hot. The only problem with cave beds? They can be hard to find in the right size for your Golden Retriever.
Read Next: Can I Put My Dog In A Regular Backpack
Conclusion
Whether you have a puppy or a senior dog, Golden Retrievers need care and comfort. The best way to help him secure his sensitive joints is to buy him a nice, comfortable bed.  With all the above mentioned, our choice for the best product goes to PetFusion Ultimate Dog Bed. This bed provides perfect comfort and security for most Goldens while staying reasonably priced.
Of course, every dog is different. You have to choose the bed according to your dog's needs. Older, calmer dogs won't have the same preferences and requirements as young, active pups. Every dog has his own personality and you must cater to his needs. However, we hope our choice made your decision a bit easier.