Have you been kicked from your bed by your Labrador? If you own a big dog such as a Lab, you know how much they love sharing our beds. No matter how cute they are, dog owners still deserve a good night's sleep. This is why it's important to always have the best dog bed for Labs.
Finding the best dog bed for Labs and other large dogs isn't an easy task. Labradors have a specific set of requirements that differentiates them from smaller dogs.
Despite their size, they still love curling up and relaxing in a comfortable place.
However, they need a lot of space and a lot of support for their weight. This is why finding the best dog for large dogs can be problematic.
We have made a list of our product choices to help you find the right one for you. You will also find the features that you should look for when choosing the best dog bed for Labs.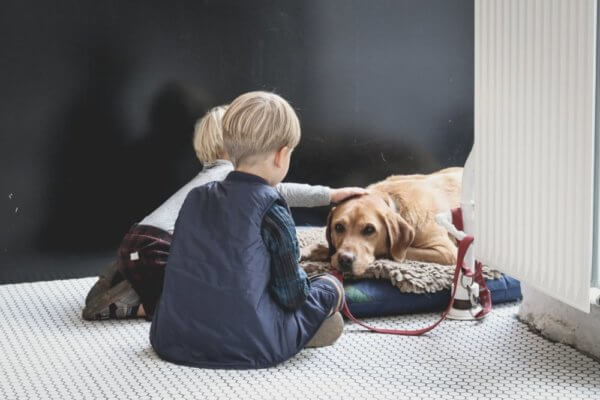 Top 4 Best Dog Beds for Labs 
1. Big Barker 7'' Orthopedic Pillow Dog Bed for Large Dogs
Super comfortable
Durable
Comes in various colors and sizes
Made in the USA, which means it comes with quality control
10-year warranty
Cons:
This bed is currently the favorite among owners of large dog breeds. It's considered to be the best dog bed for labs currently on the market.
If the first thing you notice when you look at this bed is its simple design – don't be fooled. It's made of the highest quality materials when it comes to dog beds.
It's 7 inches thick, and made of the memory foam of the best quality. It is firm enough to hold its shape even if the heaviest of dogs lie on it.
At the same time, it's extremely comfortable and it's even good for dogs with bones and joint problems.
This is of extreme importance for any Labrador owner, as Labs are prone to having orthopedic problems. ( Wikipedia Source)
This Big Barker bed comes in three sizes, so it can fit any canine. Also, it's machine washable, so you don't have to bother while cleaning it.
The cover is removable, so it will easily fit any bigger washing appliances. And if you are worried because of its price – it comes with a 10-year warranty.
This itself confirms the confidence Big Barker has in the quality of this bed.
2. Armarkat Dog Pillow Bed
High comfort levels
Great for younger, boisterous dogs that love to chew on things
Easy to clean
Cons:
The zipper is breakable
The product can produce white fluff which isn't easy to clean
The Armarkat is a well-recognized brand, so you'll know you're buying high-quality products.
This bed will cover all the basic necessities of your dog, while also remaining affordable. It has a pretty design, so it will look good in your home.
If you have a young, healthy dog that simply won't get off your bed, this might be the right choice. It's also suitable for pups, as it has a non-skid base.
Puppies are known to push their beds around, and this product will prevent that. Also, despite this bed being soft and fluffy, it's extremely durable.
It's made of heavy-duty and waterproof canvas, which can easily take most chewing and scratching.
At the same time, this bed has a zipper, which means that you can easily wash every part of it. It will hold its shape, even after years of use.
If your Lab loves to have high comfort, this product might be great for him.
3. Barksbar Gray Orthopedic Dog Bed
Great for dogs who shed
Good for larger dogs
Comfortable
Cons:
The product isn't really durable
Does your dog shed 'like crazy'? Some Labradors have hair that can't stop falling off and it gets everywhere!
This is why we have included this Barksbar's product on our list. It is the best dog bed for Labs that shed a lot.
This bed coves in several sizes, and it can hold dogs that weigh more than 100 pounds.
The sleeping space comes to a dimension of up to 36×24 inches.
The product is made with high-quality materials. The cover is made of soft polyester, while the base is crafted from the orthopedic foam.
This makes it great for dogs with joint problems or arthritis. The rim is made of cushions with cotton padding, so it will support your dog's neck and head. It also has a pretty design that can look well with most home interiors.
As the cover is removable, this bed is easy to clean. You can simply put it in a washing machine and put it on a delicate cycle.
At the same time, the polyester will prevent the hair from getting deep into the cushions. This is why it's a great product if you have a Labrador who is constantly shedding.
Cleaning hairs from these pillows couldn't be easier.
4. FurHaven Faux Sheepskin Snuggery Dog Bed
Great for anxious dogs who love to remain secluded
Great for keeping your dog both warm and cool
Super comfortable
Great price
Cons:
This super-affordable dog bed is great if your dog loves confined spaces. If your Lab loves to burrow under a blanket, you don't have to keep him in your bed.
This FurHaven product is great for dogs who love to get extra comfortable.
The top layer comes with a flexible plastic hoop that can be removed.
This is completely dependent on your dog's preferences. It's lined with faux sheepskin to provide warmth and comfort.
At the same time, it has a solid orthopedic foam mattress that is great for dogs with joint problems.
If you live in warmer areas and your dog doesn't need additional heat, the manufacturer added a feature for you.
The base is made with a layer of gel-infused memory foam that will provide coolness as well.
And if you are worried about washing this fluffy bed, there are even more good news.
The cover can be removed with the zipper which will help you with the cleaning.
How to Choose Best Dog Bed for Labs?
After looking at this list, you probably wonder how you make the right choice for your dog.
All these beds offer different features and benefits, so you should do some research.
There are several features that you should consider when finding the best dog bed for Labs.
To help you, we have listed the most important ones.
Size
The best dog bed for Labs should be big enough for your canine friend to rest comfortably.
This means that his feet and legs shouldn't hang over the sides – unless they feel like it.
Because of this you have limited options if you have a bigger dog.
Fewer pet beds come in sizes big enough to accommodate the largest of dog breeds.
If you are unsure how big is big enough, measure your dog in his favorite sleeping position.
On the other hand, if you want to place your dog bed in the crate, simply measure that crate. This way you will calculate the best size.
Durability
Large dogs tend to bite and chew on stuff. Labradors are no exception to this.
This is why it's important to look for a dog bed that is made from durable materials.
The good fabric choice is canvas, fleece, denim, or heavy nylon. These materials will prevent your dog from biting through it.
At the same time, durable fabric is a must for dogs who love to scratch and dig before lying down.
Some dogs are even prone to scratching in their sleep. If they make a tear in the fabric, not only will it look bad but your Labrador can hurt himself.
It is also important to try to find waterproof materials, especially if you have an older dog with bowel problems.
This way you will keep the bed cleaner and longer-lasting.
Another thing that you should consider is that some dogs shed a lot. If your dog has long, thick fur, choosing cooler fabric is the way to go.
Comfort
Labradors are heavy dogs. This is why his bed should be robust enough to support his weight.
Not only that, but durable beds will protect their bones and joints by relieving them of pressure.
Look for dense, supportive, human-grade orthopedic foam rather than low-loft fiber fillings.
The latter ones will flatten under your canine's weight, which can hurt them while also ruining the bed's design. Labs require thick beds with firm base.
Cheap beds with thin, flimsy pads simply won't be comfortable for too long.
Style
When we say 'style', we don't think about the bed's overall design.
That is more important to the owner than the dog. We're talking about the bed type which is the best for your dog's sleeping habits.
Some dogs like to curl up in a ball or to sleep in more confined spaces. Others love to stretch around and require a lot of places.
This is why you should carefully choose the style of your dog bed. Anxious dogs will prefer sleeping in a dog bed with bolsters on their sides.
For dogs who prefer to roll around, buying a pillow dog bed is more suitable.
How Do You Learn Your Dog to Use a New Bed?
Your pup won't instinctively know where to sleep all of a sudden.
This is why you should teach him about his new resting place.
A good way to encourage a dog to sleep in his bed is to place his favorite toy in it.
Of course, reward him when he lays on it.
If your dog knows to respond to 'Go to bed!' command, this is a nice helping hand as well.
When your dog's used to sleeping in your bed, try placing his bed next to your own. This will help your dog feel more relaxed.
Again, reward him with some belly rubs whenever he gets in it.
You can also place a blanket from your bed to his. This way, he will be familiar with its smell.
The same goes if your dog had an old bed that you want to replace. Put two beds close to each other, or put the new one on the place of the old one.
Your Labrador will be more comfortable this way.
Conclusion
Every dog is different. This is why choosing the best dog bed for Labs is a difficult process.
Even if your dog can sleep anywhere, you still have to provide him with the best comfort.
With everything we've listed in mind, our choice will go to the Big Barker Pillow Bed.
It will ensure that your dog doesn't wake up in the middle of the night.
We think it's worth every penny. This isn't to say that it definitely is the best dog bed on the market.
Every dog is different and has his own needs and preferences.
Try finding the one which will suit your dog the best.