Are you reading this article because you're looking for the best cat food for sensitive stomach due to your cat's digestive problems?
A healthy diet is of extreme importance for your feline pets. When cats' stomach is too heavy, and the regular cat food makes them feel uncomfortable, they are nervous and grumpy. That's why you should choose the best food that's suitable for their sensitive stomach. This will make your cat feel light and happy.
The question is – How to choose the best cat food for cats that throw up or have other difficulties? In this article, we will offer our top 5 choices. While each of these cat foods is excellent, our overall favorite is Purina ONE Sensitive Skin & Stomach Dry Cat Food, both quality and price-wise.
Best Cat Food for Sensitive Stomach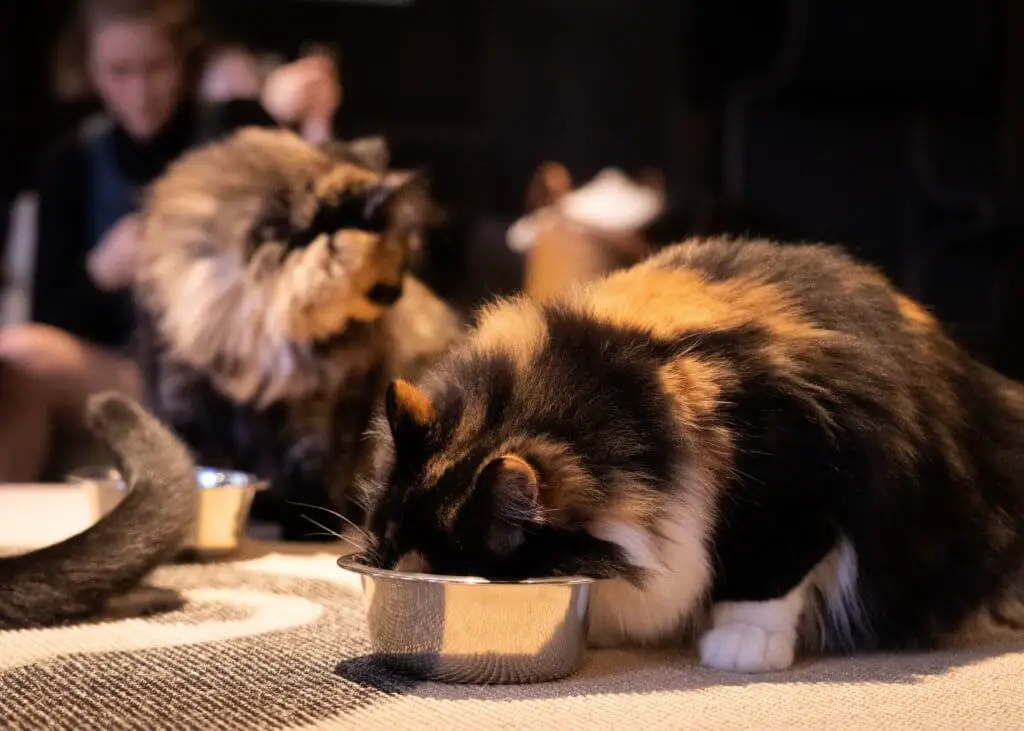 Here are the description of our top 5 cat food choices, so that you can decide which one will be the best option for your pet:
Purina ONE Sensitive Skin & Stomach Dry Cat Food
Pros:
This cat food has affordable pricing.
It's made of 100% natural ingredients without artificial flavors.
Your cat will get a fantastic blend of essential vitamins and minerals.
Cons:
Not every cat will love the taste.
It doesn't contain probiotics.
The packaging isn't very durable.
This product is high in minerals and important vitamins. Purina's cat food is our top pick not only because of its affordable price but also high-quality ingredients. Every ingredient has a purpose, and your cat will be satisfied without feeling heaviness in the belly.
Your pet will appreciate all the natural ingredients and the amount of protein he/she will get with every portion. The first ingredient of Purina's ONE Sensitive Skin & Stomach Dry Cat Food is turkey. This means that the food is not only tasty but also very healthy for your cat's immune system.
Why? Because other than the right amount of protein, your cat will be provided with omega fatty acids. This will improve the health of the skin and coat and provide excellent digestion.
Your cat will enjoy the delicious, crunchy bites without feeling uncomfortable after the meal. Another nice feature of Purina's cat food is the packaging that offers all of the necessary information. Also, you'll be able to see the recommended serving size depending on your cat's weight.
Royal Canin Digest Sensitive Thin Slices
Pros:
It ensures a balanced diet with healthy nutrients.
Your cat's stool won't have a strong smell.
Your pet will maintain the ideal weight.
Cons:
In the first seven days, you should feed this cat food mixed with the cat's old food for the transition period. The cat's organism needs to adapt to the new food.
The slices may be too large for some cats.
Picky eaters maybe won't like the taste.
If your cat prefers wet formulas over dry cat food, he/she will enjoy this Royal Canin product. And since it reduces the bad odor of the stool, you'll love this cat food as well! Your cat will surely find this canned cat food super-delicious. However, you can have peace of mind because your pet's weight will stay optimal.
This cat food contains all the nutrients that will keep your cat full. Also, it has the ideal balance between fats, proteins, and carbohydrates. This means that your cat will have a healthy weight, which is very important for overall health.
Tasty food can be a trap because your cat may eat too much of it. Thanks to the Royal Canin Digest Sensitive Thin Slices in Gravy Canned Cat Food, your cat will stay healthy and have an ideal weight.
Plus, its stool won't have a strong odor, and your pet's stomach won't be heavy. Cat owners love feeding their pets these delicious meat slices because they keep their pets healthy and energetic.
Royal Canin Digest Sensitive Loaf in Sauce Canned Cat Food
Pros:
It regulates your cat's weight.
This cat food is ideal for cats that have problems with vomiting because it doesn't make their tummy heavy, and it's easy to digest.
It's great for cats that tend to eat too quickly because it won't create digestion issues.
Cons:
It's up there in price.
The texture may be thicker than other pâté cat foods.
You'll probably have to introduce this cat food gradually.
Another palatable Royal Canin's cat food is this version of the wet texture. Loaf in Sauce Canned Cat Food can be an interesting change if your cat is bored with the usual slices in gravy. Like the previously described Royal Canin product, this cat food is also high in essential nutrients. It offers the ideal balance between minerals and vitamins.
Other than keeping your cat healthy and satisfied with the taste, this food won't be heavy for your pet's stomach. That's why we had to include this one in our "best cat food for sensitive stomach" article!
Loaf in sauce is a perfect choice if you're wondering why is wet food making cat sick. Your feline may be eating too fast, and that's why this canned food will be the best option for him/her.
Have you tried the previously mentioned Royal Canin food and love the odor reduction that it provides? If your answer is yes, you'll appreciate the loaf in sauce as well. Also, your cat will maintain a healthy weight because this product is low in calories.
Hill's Science Diet Adult Sensitive Stomach & Skin Chicken & Rice Recipe Dry Cat Food
Pros:
It contains omega fatty acids that promote skin and heart health.
Prebiotic fiber promotes the health of your cat's stomach because of the good gut bacteria.
This cat food is high in protein and good fats that make the taste even better.
Cons:
The price of this food is a bit higher.
It's a bit high in calories.
Some cats may like it too much and become addicted.
This is another really great dry cat food. Hill's Science Diet has created this food with the intention of helping cats with sensitive skin and stomach feel good after their meal. That's why all of the ingredients are natural and high in the most important nutrients and vitamins.
Your cat's coat will benefit from vitamin E, while he/she will stay healthy and strong thanks to vitamin C. This ideal blend of vitamins and minerals is great for the feline's immune system. Other than that, it helps better absorption of the nutrients and makes your cat elimination regular.
Cat owners whose pets have sensitive stomach know the struggle of finding their ideal dry cat food. That's why Hill's Science Diet cat food is formulated with prebiotic fiber. Thanks to that, your cat's stomach will get the right amount of beneficial gut bacteria. This, of course, means that its tummy will stay healthy, and it will digest food easily.
This tasty cat food is one of the best choices if you're wondering, "How can I help my cat with a sensitive stomach?". Organic chicken and rice are the main ingredients, and almost all cats adore this taste combination.
Blue Buffalo Sensitive Stomach Chicken Recipe Adult Dry Cat Food
Pros:
It contains antioxidants thanks to the berries.
It's made without artificial flavors – 100% natural and organic.
Your cat will maintain a healthy weight.
Cons:
It may be difficult for chewing if your cat is missing teeth.
The pieces are small, and inpatient cats may swallow too quickly.
The smell is a bit strong.
Let's conclude this best cat food for sensitive stomach review with Blue Buffalo's product. This cat food will keep your pet's health and weight in check. Your cat will be provided with the ideal balance of chicken, whole grains, tasty veggies, and fruits rich with antioxidants.
Blue Buffalo's food also contains prebiotics. They promote the health of the feline's stomach and help with beneficial gut bacteria. Thanks to that, your cat will easily absorb all of the healthy nutrients and stay healthy.
The antioxidants, minerals, and vitamins that this formula contains will give you peace of mind when it comes to your cat's overall health. Since the first ingredient is chicken, rest assured that your pet will be provided with the right amount of protein. This will make its muscles strong and developed.
Other ingredients, such as brown rice, carrots, and blueberries, will keep your cat full without vomiting or having a heavy tummy. Other than being fantastic for the feline's health and stomach, this food is also super-tasty.
Frequently Asked Questions
How do you know when your cat has a sensitive stomach?
The best way of knowing whether or not your cat has a sensitive stomach is by monitoring its behavior after the meals. Are you wondering, "Why does my cat throw up after eating?" Or are you maybe noticing some cat sensitive stomach symptoms such as frequent diarrhea, vomiting, lip licking, less energy, etc.?
Well, this is most likely the sign that your kitty has a sensitive tummy and that it's time to see the vet. The professional will determine the exact cause of these symptoms and give the best solution.
We already talked about the best cat food for sensitive stomach that can be extremely helpful if you notice the symptoms. However, we are aware that all cats are different and have different food preferences.
That's why you'll need to be patient when feeding them new foods and try to find the one they'll happily eat.
Generally, the food that is suitable for cats with sensitive tummies will be free of all of the potential irritants. Also, the nutrients in the food will be balanced so that the stomach can absorb and digest everything easily. Make sure to purchase cat food that's lactose, gluten, preservatives, and food coloring-free.
Keep in mind that even if you find food that your cat will like, its organism may take some time to get used to the new food. You should notice the improvements in your cat's digestion after 2-3 weeks.
Should cats with IBD eat dry food?
Preferably, no.
Inflammatory Bowel Disease is very unpleasant for our four-legged friends. As with any inflammation, the diet can be very helpful in treating it. Make sure to take your cat to the vet so that he/she can examine and determine if your kitty is suffering from IBD. Other than giving your pet the recommended treatment, choose to feed it foods that will improve this condition.
Some of the solutions would be to try the hypoallergenic diet and grain-free diet. You can cook homemade cat food if you prefer fresh ingredients. However, if you don't have a lot of time, look for commercial cat food that is suitable for pets with IBD.
Avoid feeding your pet dry food because the wet formulas are much easier to digest. If your cat refuses to eat anything else and wants only dry formulas, look for high-quality, grain-free ingredients.
Bottom Line 
As you can see, even if your cat has a sensitive tummy, you have a lot of options to choose from. Not everyone has time to cook homemade cat food every day, and that's understandable. That's why we tried to provide you with the products that we consider to be the best ones for cats that have difficulties digesting most foods.
Again, keep in mind that every cat's individual taste is different. Even if your cat isn't necessarily a picky eater, some formulas won't be appealing to him/her. Whichever cat food you decide to purchase, try to introduce it to your cat's diet gradually. The transition won't be too stressful, and your cat will love not only the taste but also the effect the food has.
We hope that this article was helpful. Decide which formula works best for your cat's preferences. Also, consider which price-point is acceptable for your wallet before your kitty falls in love with its new diet.