Planning a first trip with your pet? Wondering how do you take a cat on a long car ride? For most of us taking a pet with on a ride can be a frustrating thing. But, it doesn't have to be! If you plan your trip and provide your cat with the best cat carrier for long car travel – the journey will be a unique experience.
This way, you'll prevent stress which cats can often feel due to changing their daily routine.
Best Cat Carrier for Long Car Travel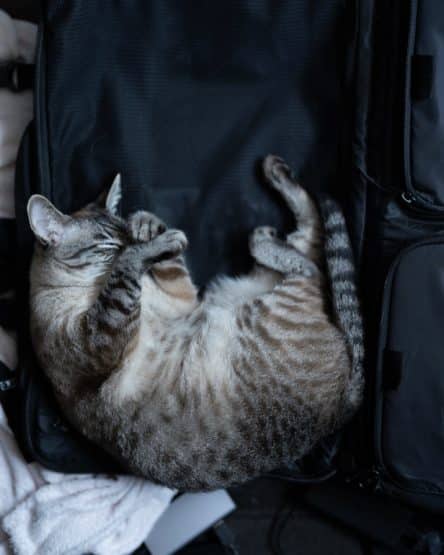 1.    Sherpa Original Deluxe Pet Carrier :

Best Overall Carrier
This is one of the best cat carriers on the market. It's tough and very durable.
The Sherpa Deluxe is recommended for the cats up to 22lbs and shows a very well balance of the weight.
It has better airflow than most other carriers we tested, has top and side openings that are easy to get your pet in and out through.
Besides, it is flexible enough to squeeze into smaller spaces.
The small and medium sizes are great for cars and air travel too.
The included shoulder strap doesn't provide much support while walking, and like almost all soft carriers, the Sherpa doesn't provide enough protection for your pet in a car crash. The carrier is accessible in numerous sizes and meets the under-seat prerequisites of most carriers.
With a super-fluffy mat inside, this equipment becomes true heaven for your pet.
It has a one-year limited warranty, like most of the similar products on the market.
Pawfect Pets Premium Soft-Sided Cat Travel Carrier —

Best for Nervous Cats
Having issues with a nervous and anxious cat while traveling? Look no more, Pawfect shows extraordinary features that will help your cat stay calm and safe. It's comfortable, modern, and stylish, designed to make your cat comfortable during journeys.
It's rounded corners give it a look of a purse – so you will look fancy while wearing it.
You must be wondering about its durability and strength, right? It is ultra-safe and extra-durable thanks to Claw-Defense Mesh on the top and four sides.
Do not worry about ventilation, it has a very good airflow so your kitty won't suffocate inside.
Includes one shoulder strap and 2 fleece pat mats so your pet can enjoy long nap seasons.
It has two-three quick openings secured with a durable zipper ensuring your kitty stays inside.  And last, but not the least: a 100% money-back guarantee.
Peanut's Gold Series Airline-Approved Soft-Sided Cat Carrier —

Best Small Cat Carrier
The times are changing fast, so nowadays you can take your baby pets everywhere – even on the plane too. Mr. Peanut's Gold Series is specially designed to fit under the seat in the plane. It measures 16″Lx10″ H that fits a 15lb pet, and the reinforced straps to ensure that this weight does not harm your shoulder.
It is designed so that your pet will be lying on the length of the carrier for comfort.
The compartments on the side are not all that big, but they could accommodate a few toys and treats.
The nylon transporter is made of waterproof nylon that is additionally strong and sturdy.
It is gorgeous as well making it the perfect choice of all fashion-conscious owners.
It comes with a Sturdy Plywood Base which guarantees that the transporter won't breakdown under your pet's weight.
A rich fake wool bedding is an additional benefit that keeps your fuzzy companion warm.
Due to the smaller dimensions (18.0″ x 10.5″ x 11.0″) it is suitable for a lighter pets – up to 14lbs.
If we have to point out one,  downside'' it would be its lightness which makes it difficult to balance a cat.
But in that case, it's recommended to use a shoulder strap instead.
Petmate Top Load Pet Carrier —

Best Top Loading Cat Carrier
This carrier is made of a strong and durable plastic which makes it a perfect choice for any type of trip.
The biggest advantage of this carrier is front and side doors which are made of steel.
This way you can feel confident that your furry friend is secure inside. It is available in two colors and two sizes (bigger and smaller).
Good ventilation is crucial for a pet staying calm and happy and this carrier has it all (not just due to two steel doors).
If you want to give your pet friend a chance to take a look around while traveling – this is your carrier of choice
Maybe this isn't one of the most stylish cat transporters but it's extra durability and top-loading option are of great value.
Also, features an ergonomic handle for extra comfort. Maybe the Petmate Top Load is a bit heavier than other carriers but it a solid option for a cat and small dog hard-sided carriers.
Pet-mate soft-sided dog & cat carrier bag –

Best Cat Carrier for Small Budget
This model will make your cat a little less distressed thanks to the breathable mesh sides which allows them to see out every side.
It's comfortable enough featuring a 2-door design for both top and front loading. It comes in two sizes (medium and large) with exterior pockets that are suitable for pet's essentials.
Made of durable material with PVC backing and comfortable shoulder strap – it's ideal for airplane or car journey due to its small dimensions.
Even if it looks light and easy, it's quite durable (for the time we have tested).
Good ventilation and enough space to stretch legs give this carrier a passing grade.
This pet-mate carrier bag is also easy to maintain – occasionally use clean water and mild soap to keep it clean and fresh.
One downside is lack of bells and whistles, but overall it's a good investment; and money for value exchange.
Wherever you go, you can take your furry friends with you and be sure that they will stay healthy and happy along the way.
Tips for choosing the best car carrier for a long car travel
To make your trip as enjoyable as possible, you should carefully choose a carrier for your loved pet.
Sounds like hard work? Well, not really.
Today, there are plenty of options on the market which differ in quality, price, and durability.
Take your time, explore different proposals.
In addition to driving safety, it is also important that the pet feels good, right?
Here is a list of features that you should take into account while picking up a carrier:
Choose the right size of carrier depending on the size and age of your pet.
The pet should have enough space to stand and sit upright, to lie down, stretch out, and rotate in a standing position.
As a general rule, the carrier should be 1.5 times larger than your pet's size.
Remember that there should be room for food & water.
In addition to size, it is also important to know the weight of the pet to choose the appropriate strength.
If your cat is calm you should choose nylon or soft carrier.
On the other hand, in the case of a  nervous pet, choose more durable materials such as plastic.
An extra tip – when you buy, take the book and place it on the bottom of the carrier to test its durability.
If the bottom is overloaded, choose a one with a sturdier base.
Choose a carrier that has good ventilation which means at least two openings/windows.
This way, the cat will have enough air and will not suffer or get overheated.
pick a carrier that opens from the top
With a bearer that opens from the top, your veterinarian might have the option to look at your cat while never removing them from its carrier. This can be useful for cats that are on edge or frightful at the vet's office.
Plan your trip and choose the best cat carrier for a long car travel
Traveling with pets requires preparation and lots of information. When deciding to embark on this adventure, it is important to get the right equipment to help your cat feel comfortable and safe. [1]
The cat's traveling equipment depends on the length of travel and type of vehicle.
The most important piece is for sure – the carrier.
There are different types of carriers on the market, so be sure to explore it all before making the final decision.
Getting ready: A passport and the best cat carriers for a long car drive
Unlike dogs, cats are not overly fond of traveling and moving. Most cats tolerate transportation quite badly. Many are disturbed, loudly advertised, sometimes even sneezing and vomiting. [2]
Feeding should, therefore, be avoided immediately before the trip or during the trip itself.
If a cat is known to be difficult to tolerate traveling, she may have a suitable tranquilizer or a nausea remedy (but only on the recommendation of a veterinarian).
On the other hand, some cats are very attached to their owners.
In this case, it is best to bring your cat with you on a trip instead of taking them to pet hotels.
If you decide to take a long trip across the border, the most important thing is to provide a valid passport listing all the necessary information as well as chip number.
Also, do not forget to visit a veterinarian before the trip.
He or she will check the health status of your loved pet to maintain the travel going smoothly.
Preparations for the trip
As we have already pointed out, the use of a suitable carrier when traveling is essential. (source)
Your cat should start using it a few weeks before the trip.
First, your cat needs to get used to being in a carrier while the car is on a move.
In the beginning, drive her for a short period.
Also, be sure to give her attention while driving – so the cat will feel safe and relaxed.
These are key factors for a cat to overcome the fear of driving.
Also, a cat should eat a couple of hours before the trip, not during it.
And, don't forget to bring plenty of water – we're sure your cat will be grateful for that.
How to behave while traveling?
When traveling, you must never leave your cat alone in a car, especially in high temperatures.
Make sure you take more frequent breaks and, in very controlled conditions, allow your pet to stretch her legs a little and pee.
To enjoy the trip as much as possible, put her favorite toy or rug she sleeps on in the carrier.
What about music? Kittens and music?
Well, sorry, but you should be quiet. Cats don't like loud noises or sudden moves, so keep that on your mind while driving.
Make sure her carrier is always close to you, in case she starts acting strange or need extra attention.
Try a carrier with safety belt circles.
These carriers contain circles that permit you to clasp your cat and its carrier into the vehicle seat.
The additional security these carriers offer may simply be the thing you need.
This way, your cats' wellbeing is guaranteed.
Best Cat Carrier For Long Car Travel : Round up
Hope this list will be of help to you.
We've rounded up the best cat's equipment according to the available Intenet reviews.
This wasn't an easy job, but the happiness of you and your cat were on our mind throughout the process.
Once you find the right carrier every journey with your cat will become a memorable experience that you will share with your friends and family.
Give your friend a little bit of time to get used to new traveling conditions, especially if she/he is an affectionate cat.
Also, once you've reached the destination, don't forget to reward them for good behavior.
New toy, a delicious treat, or simply a long cuddling season … It's up to you. Meow…. Please, share your thoughts and experience in the comment section below.